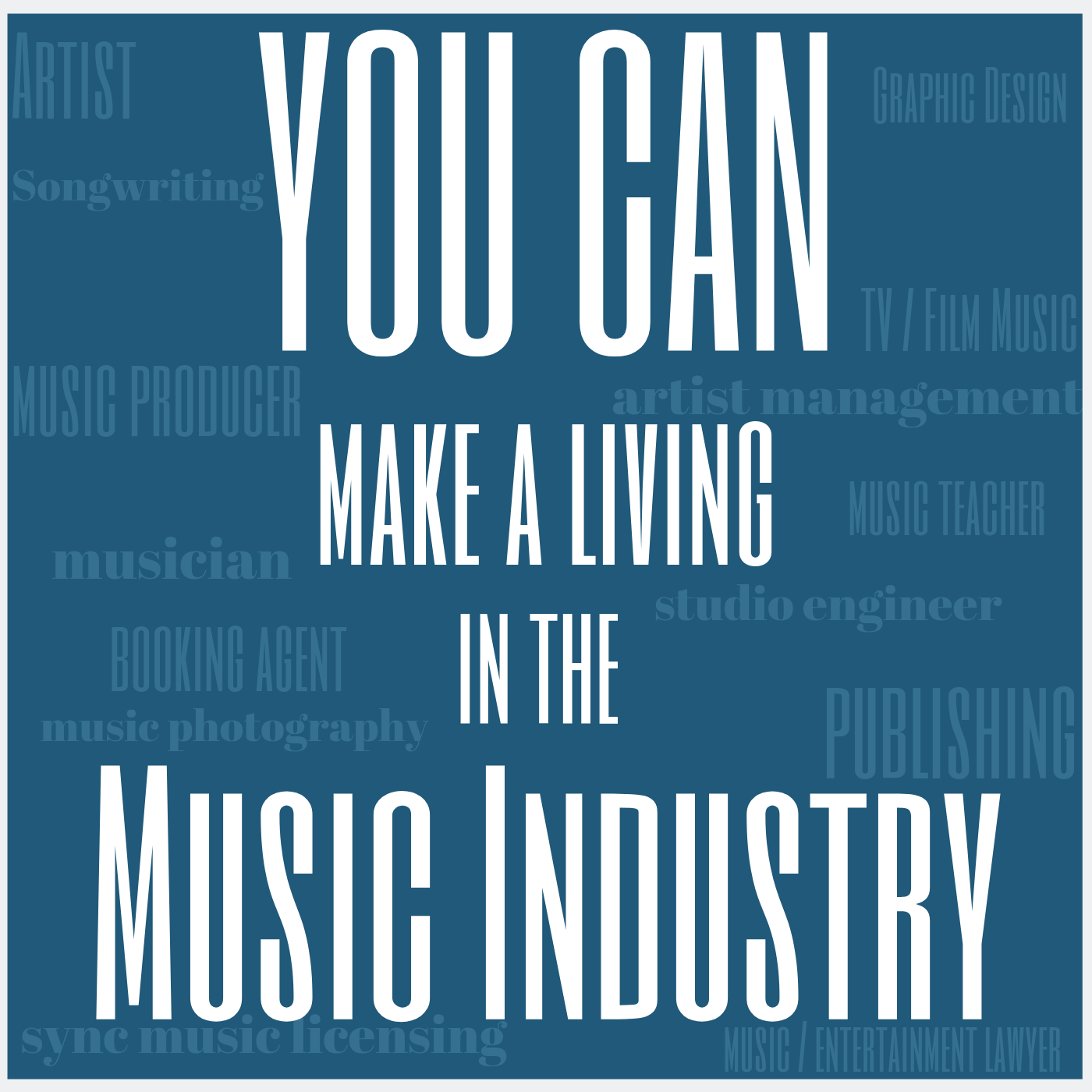 Did you know that YOU CAN make a living in the music industry? Celebrities, working class musicians and people just like you who work behind the scenes in all areas of the music business will share their stories, encourage you and give you tools and how-to examples of the ways YOU CAN make a living doing what you love in the music industry.
Episodes
Monday Apr 03, 2023
Monday Apr 03, 2023
This week I'm talking with Chris Bragg and Travis Michaud of Ghostwriter Music here in Nashville and in L.A. Ghostwriter is one of the most sought after companies that creates exciting and emotional music put to the trailers we love to watch when anticipating the release of a new tv show or movie coming to theaters. Their music has been used in trailers for Thor: Love and Thunder, Sonic The Hedgehog, She-Hulk, Star Wars: Andor and so much more! We are discussing when Ghostwriter gets involved to write music for a trailer, how you get paid when creating music for trailers and the number 1 rule of writing music for trailers. These guys should know, they are some of the best in the business!
Sponsors: Edenbrooke Productions - We offer consulting services and are offering listeners a 1-hour introductory special. To request more info on consulting services, email Marty at contact@johnmartinkeith.com. 
In this episode we discuss:
*Prepping audio for trailer mixes.
*What kinds of sounds to stay away from when adding sound design.
*Practical effects vs. sound design.
*When Ghostwriter gets involved to write music for a movie trailer.
*Trailerizing Music.
*Trailers get cut to the music, not the music to the trailer.
*The Three act progression.
*How many versions of songs can be used in a series of movie trailers.
*Levels of approval needed.
*When you get paid for making music for trailer.
*You're competing against multiple vendors for the same project.
*How long it takes to complete a track for trailer.
*Have pre-made templates ready in your DAW.
*Save versions every time you make changes.
*Print stems for every version to be safe.
*Be consistent and organized.
*The dark side of the trailer industry.
*You're on call 24/7.
*Matching projects to composers.
*How you get paid when creating music for trailers.
*What Ghostwriter is looking for in composers.
*Why you can't always talk about the trailers you make music for.
*The number 1 rule of writing music for trailers.
*Never end a cue feeling satisfaction.
*www.ghostwritermusic.com

BIO:
Ghostwriter, since its inception has been an industry innovator and to some of our fiercest competitors, a disruptor. We strive to bring audio excellence to all our clients, big and small. The music we make is what separates us from our competition and the music you choose is what will make your project stick out from the rest. Whether you're working on one of the most anticipated film campaigns, advertisements, video games, and TV promos, we are ready to work with you, so let's make something special.
Ghostwriter is, as the name suggests, the ones working behind the scenes to elevate a project to the next level.