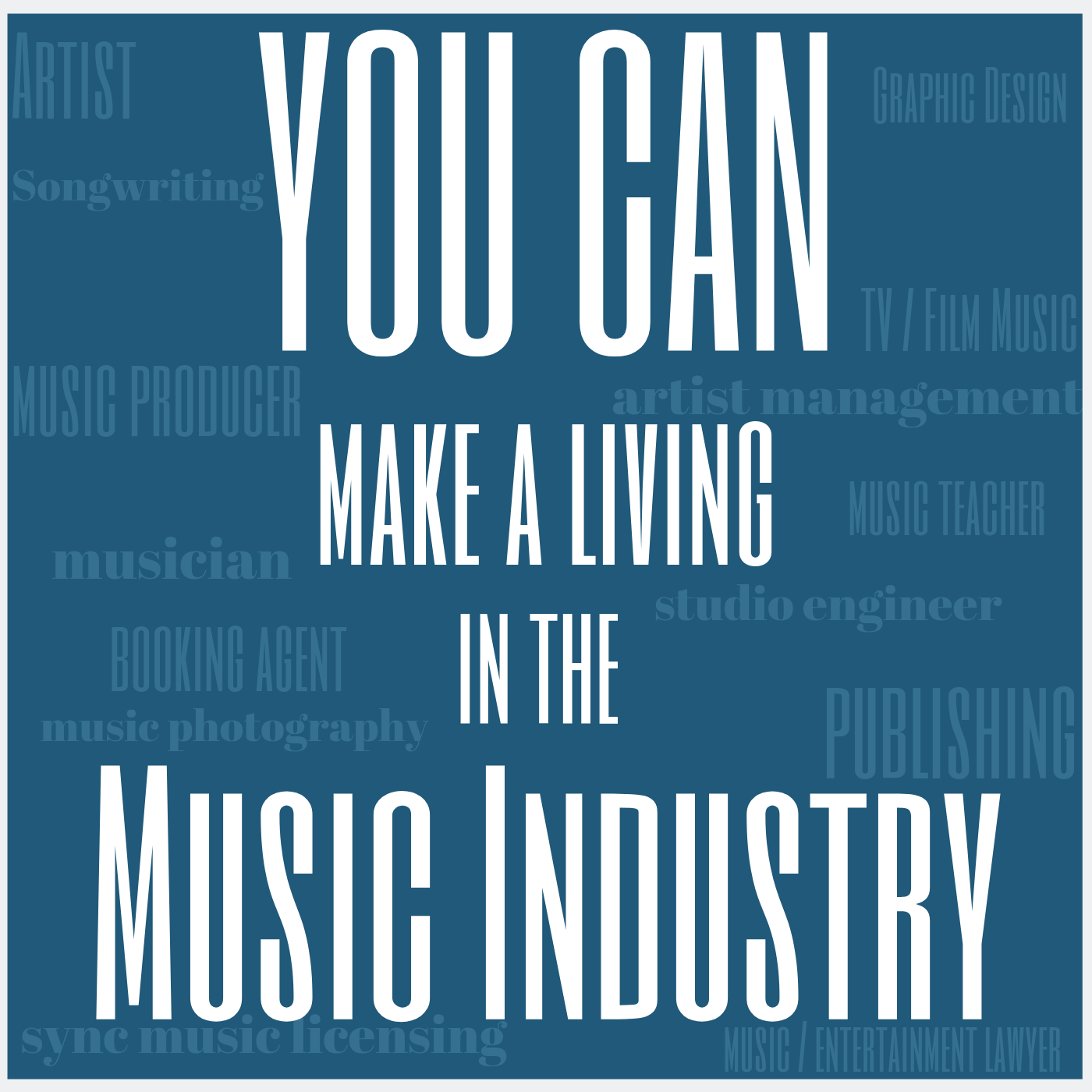 Did you know that YOU CAN make a living in the music industry? Celebrities, working class musicians and people just like you who work behind the scenes in all areas of the music business will share their stories, encourage you and give you tools and how-to examples of the ways YOU CAN make a living doing what you love in the music industry.
Episodes
Monday May 08, 2023
Monday May 08, 2023
This week I'm talking with Adam Taylor, president of APM Music. APM is the world's leading creative music house and production music library. With placements in network tv, Netflix and Disney +  to tons of blockbuster films, it's no wonder APM is at the forefront of the sync and music production library world. Crazy thing about Adam, he has no musical bones in his body, yet he runs the largest music production library in the world! We are discussing how someone with no musical background can become the leader of music related company, the key to the music library business and what APM looks for when hiring new staff members.

Sponsors: Edenbrooke Productions - We offer consulting services and are offering listeners a 1-hour introductory special. To request more info on consulting services, email Marty at contact@johnmartinkeith.com. 

In this episode we discuss:
*Leading a music company with no music background.
*Going beyond the job description.
*The mission of APM.
*Understanding what people are looking for.
*wanting artists and composers who have their own style.
*Having your own voice.
*What APM looks for in new writers and producers.
*Representing 3rd party libraries.
*Success is based on the quality of music.
*Indie artist centric.
*Genres that are not used often in sync.
*The more popular the music style, the shorter the shelf life may be.
*Exclusive vs. non-exclusive representation.
*The key to the music library business.
*How APM pays artists and songwriters.
*Come prepared.
*Understand how you might want to fit into a company.
*What APM looks for when hiring new staff members.
*Be open to new ideas and ways of thinking.
*www.apmmusic.com
*https://form.apmmusic.com/composer-submission/
 
BIO:
For over two decades, Adam Taylor has been helping intellectual property companies, organizations and individuals manage and extract value from their copyrights, trademarks and patents. As president of APM, Adam continues to reinforce the company's standing as an innovative creative house and production music library with one of the most diverse collections of original music for every type of media. 
Prior to taking the helm at APM, Adam was president of Taylor/Fox Enterprises, where he partnered with doctors, scientists and inventors to direct market and deliver their unique, patent-protected inventions to consumers. Before that, as founding partner of Goldman/Taylor Entertainment, he developed numerous properties including the television series "Confessions of Crime" for Lifetime Network, and the PBS series "Joseph Campbell - Mythos" hosted by Academy Award® winner Susan Sarandon in partnership with the Joseph Campbell Foundation. 
Adam began his career at Caswell-Massey, the oldest chemists and perfumers in the U.S. established in 1752, where he served a ten-year post as president and CEO. 
Adam currently serves on the Board of Advisors for the Santa Monica College Academy of Entertainment and Technology, the Board of Directors for CreatiVets, a not-for-profit that uses music and the arts to help veterans heal, the advisory board of the Zelikow School of Jewish Non-Profit Management and the advisory board of Creative Community for Peace.